Experience the power of OutSystems
We offer you a free, cloud-based personal environment where you can build mobile, web, and progressive applications 50% faster and access all OutSystems features: data models, workflows, logic, UI/UX, custom code...
Unlimited number of apps.
Unlimited usage period.
Free data storage up to 2GB.
Community support channels available.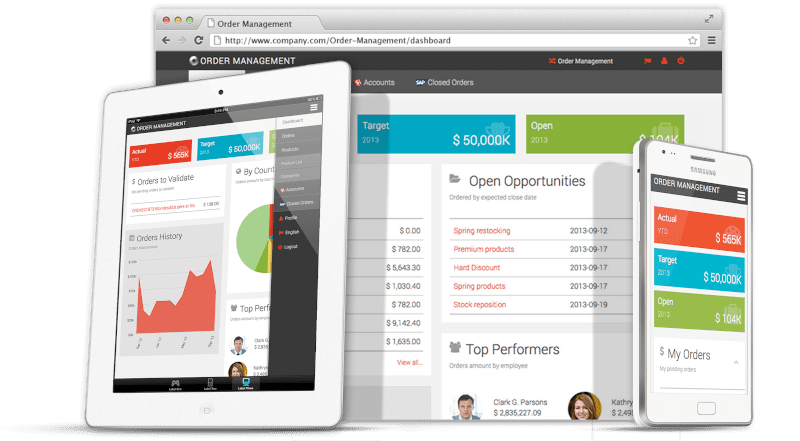 Xeridia is OutSystems' low-code development partner
OutSystems is the No. 1 low-code platform providing advanced features to transform your business and accelerate your time-to-market.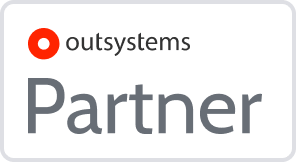 Companies today face the enormous challenge of reacting in an agile and flexible way to changes in market demand while overcoming the limitations of legacy systems.
We have partnered with OutSystems to provide our customers with the ultimate tool to modernise their applications and accelerate their time-to-market by up to 10 times.

Consultancy

Low-Code
Development

Integration and Conectors

Licenses
Advantages of Low-Code Development
Develop agile, scalable and flexible applications
Putting an end to the obsolescence of your company's legacy systems.
Automate manual, complex and repetitive tasks
Allowing you to focus on innovation, your business and customer service.
Simplify the complexity of software development
An extremely short learning curve means your teams can be more efficient and more independent.
Reduce time and costs
Optimise time and money spent on development and maintenance AND reduce operating costs, all without impacting the quality of your application.
Features of the OutSystems Low-Code Platform

Agile and visual full-stack platform
The OutSystems low-code platform includes everything you need to create business applications from scratch: front-end, back-end, process orchestration and data integration. Its development environment features an intuitive, visual drag-and-drop interface with an extremely short learning curve, pre-built components and automation to reduce routine tasks.

Integration with more than 275 external systems
The OutSystems platform is extremely easy to integrate with existing or external systems and is compatible with any device. Its low-code applications can be integrated with more than 275 systems, including voice assistants, messaging platforms, database systems, REST, SOAP and cloud services. The business applications developed with OutSystems generate portable, optimised and standard code in HTML, CSS, JavaScript and .NET, and also allow proprietary code to be added.

Management of the entire application development cycle
The platform includes a DevOps solution that guarantees continuous delivery and integration: real-time monitoring, test environments, feedback, dashboards and management tools. The entire DevOps process is automated and the application is deployed with a single click. It can be integrated with existing tools and workflows.

Unique, multi-platform user experiences
This low-code development platform can be used to create unique digital experiences at all points of contact. It includes more than 100 UI kits with the best UX/UI practices for the web, iOS and Android, all without needing to adapt the code for each device. They can be used, adapted or created from scratch, and can also be integrated with chatbots, voice assistants such as Siri and Alexa, and with proprietary APIs and web services. Custom CSS can also be added.

A scalable, flexible and secure low-code platform
From the outset, its architecture delivers the scalability and performance that modern applications require. In addition, the OutSystems platform provides the flexibility to deploy its applications to the OutSystems Cloud, public or private clouds, and on-premise environments. All applications developed with OutSystems comply with more than 200 security controls and automatic code vulnerability analyses.
OutSystems is the #1 Low-Code platform
According to Gartner's magic quadrant, OutSystems ranks first among low-code business platforms for its ability to develop, implement and run user experiences, business processes, logic and data.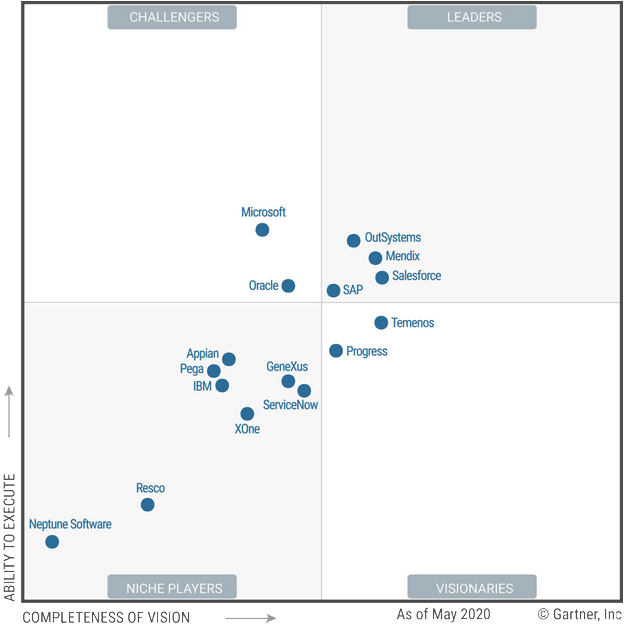 Ready to create unique, modern, scalable applications?