Client focused. Success driven.
Xeridia is a European professional IT services company providing consultancy, implementation and support and with extensive experience in the field of software lifecycle management and development. Since its creation in 2003, Xeridia has focused its operating strategy on the Atlassian tool suite and application of open source technologies. Our team of software architects, developers and designers have successfully delivered a vast range of projects for the most demanding sectors and have won the trust and respect of all our clients.
Turning Your Vision Into Reality
Xeridia means…

Expertise
Talent, in-depth knowledge and experience are our team´s key success factors. That´s why we are leaders in the open source ecosystem.
Innovation
Driven by our innovative and creative culture, we are continuously exploring cutting-edge technologies, systems and methodologies.
Commitment
We go above and beyond to provide tailor-made solutions that guarantee our clients by closely collaborating with them in the design and development of their technology strategy.

Passionate Software Development Practitioners
We Partner With Leading Global Companies
Thanks to our long-standing relationships with global technology leaders, Xeridia continues expanding its technological capability. Solutions developed by our partners, Atlassian, SonarSource, Pivotal and New Relic, play a crucial role in our technological integrity and soundness. Aditionally, these alliances provide our clients with comprehensive selection of competitive services and high performance products.

Atlassian develops innovative, powerful and intuitive products. This is why the company has achieved success and a rapid customer growth at a global level.
Xeridia has been harnessing Atlassian tools efficiently for 12+ years and has become one of the most seasoned partners of the Atlassian community. Our team has a wealth of experience in developing and delivering high-performing and highly customizable software using Atlassian products.
Learn more ›

Xeridia has been using New Relic, the pioneer of "Software Analytics", for monitoring the release of applications for many years, both with clients and for our own tools.
We know firsthand the possibilities and advantages that New Relic offers and that´s why we have become part of the New Relic MSP Partner Program.
Learn more ›

Pivotal is the company that is transforming the way software is built. At Xeridia, we work with Pivotal to help our customers build Native Cloud applications. These types of applications leverage the advantages of the cloud model to deliver applications faster, reduce risk and grow without limits.
Learn more ›
We benchmark Our Quality And Best Practices With ISO Certifications
ISO certifications are benchmark of our quality and best practices.
Our highly qualified professionals hold certifications in the fields of software development processes (Scrum master, etc.), security (CISSP, etc.) or other technology related certifications (Cloudera, JBoss, etc.)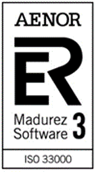 Software development
ISO 33000 (Spice Level 3)

Security management
ISO 27001

Service provision
ISO 20000

Business management
ISO 9001